FitX40 or OrthoFIT Studio
"Bring Precision to your Fitness Goals"
Why Medical Fitness?
Medical fitness is a cocktail of health science, exercise physiology, and strength training heading towards a pain-free and active lifestyle
This perfect blend mainly focuses on functional strength training irrespective of age or condition, reducing the pain and help build your muscle strength for the long term, preventing recurrence of orthopaedic problems
Research proves that muscle strength is responsible for the health of the joints and if muscles are strong enough to support the joint and take some load off the joint, orthopaedic problems can be avoided
THE CONCEPT
It is a well-known fact that we limit activities when we are in pain. 

This inhibits the muscle activation and if not taken care of at the right time the muscle keeps on becoming weaker resulting in more compromise in the lifestyle and an increase in pain.

In long term, this causes muscular imbalances, compensation patterns in the way you do your daily activities.

Though when the inflammatory phase is over your pain can settle and you could feel better but these imbalances put undue stress on your joints and resulting in increased wear and tear.

This increases the chances of reinjury and a second episode, much higher in intensity as compared to the first. 

If we take care of this at appropriate time and put emphasis on the conditioning of muscles the RIGHT WAY, we can rebuild the muscle strength, improve posture and movement patterns, and get back to normal function.

It's a very good option not only for people looking to get some relief of their orthopaedic problems but also for those who want to gain core and muscle strength for a better quality of life and keep muscle aches and pains at bay.

Stronger -the Younger
THE JOURNEY
Starts with the initial consultation with our corrective exercise specialist.

A holistic activity plan is made depending on your physical assessment.

If pain is there, then it is managed first with advanced treatment options available at the clinic comprising integrated treatment by a team of specialists including Physiotherapists, Orthopaedic and Chiropractic Doctors.

Then the process of strength gains, muscle conditioning and rehabilitation is started.
Specially designed strength training machines
We have highly specialised machines which help in multi-fold strength gains as compared to free weight training or training with gym machines. 

Isolation of the set of muscles that actually needs to be targeted is the key to process which is difficult to achieve with various other machines available in the market as they are not "medically sound".

It can offer a one-stop solution to your muscle and joint stiffness, pain and aches which can be used by both beginners or professionals.

The machines are designed ergonomically as per the biomechanics of the human body. The motion is guided and is restricted in the available Range of Motion (ROM) of the targeted joint, thus removing any chances of an injury 

The eccentric technology provides variable resistance in the full range of motion thus making the exercise effective for all the different muscle fibers that get recruited during the movement

Its medically supervised and thereby its completely safe and does not damage your muscles and joints
Benefit over other strength training programs
Less time more Gain
It's a high intensity training even suitable for people having pain (as it is done under medical supervision). Just two 30 mins sessions per week is what is required.
Under complete medical supervision unlike gym and fitness centres:
Proper technique is the most important prerequisite when it comes to returning back to the active lifestyle and managing your orthopaedic problems.

Our strength training programs are personally supervised by our corrective exercise specialists who work together with you to achieve your goals. 

High-intensity training is done until you get maximumly tired, in medical language – local fatigue is reached. This takes 90-120 seconds of exercise on an average

Weight progressions are done according to the performance and it could vary between 3-5%
Custom FIT exercise training
The MedX machines can be customized as per your requirement in terms of seat pads, back rest and range of motion to ensure correct and safe exercising technique

The training weights are precise and it enables that the load can be adapted to your strength build-up with accurate precision
Goal Oriented Strength and Fitness
The training plan is custom prepared for you based on your current assessment and your fitness goal.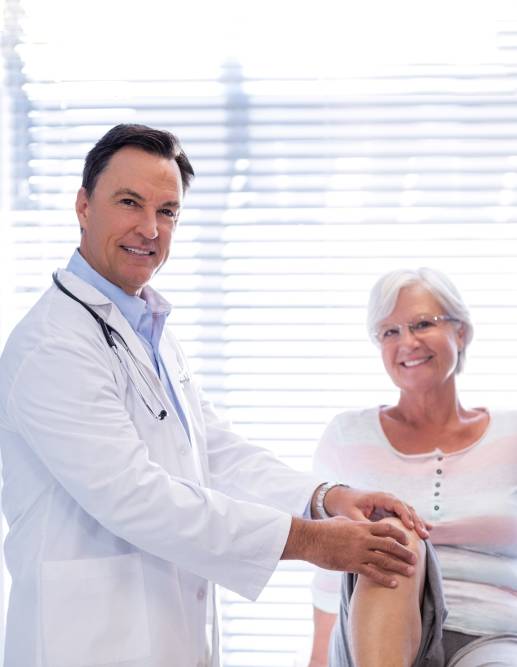 We provide 360 degree solutions for your condition
Our unique 4 point protocol allows for an all round approach.
We start with the right diagnostics, and then proceed to initial pain relief and structural corrections to treat the condition of the root cause of the ailment.