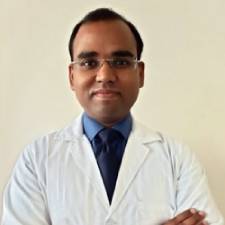 Dr. Yugal Karkhur
 Consultant, Orthopaedics & Joint Replacement Surgery
Profile
Dr. Yugal has an extensive and rich experience of 8 years in the field of Orthopaedics. He completed his MS in Orthopedics from the prestigious Maulana Azad Medical College, New Delhi and then worked at Delhi Government's largest hospital(Lok Nayak Hospital and Sushruta Trauma Centre) as Senior registrar for a period of 3 years where he attended large volumes of complex trauma cases and various other bone related problems.
He developed keen interest in problems related to hip and knee diseases and finding the solution through non- surgical and surgical treatment options for the betterment of his patients. He is fellowship certified hip and knee replacement surgeon and has completed his fellowship in joint replacement surgery and adult hip preservation surgery from Missouri Orthopedic institute, Missouri,USA. He also has been trained in arthroscopic(keyhole) surgeries of shoulder and knee joint related to various sports injuries at Sports Injury Center, Safdarjung Hospital, New Delhi. Pursuing his interest in the field of joint replacement, he completed his clinical fellowship at Max Hospital, Saket and then continued as Associate consultant for a period of 2 years.
Dr. Yugal has tremendous interest in academics and research leading to more than 15 research papers in various international and national pubmed indexed peer reviewed journals and various ongoing researches in pipeline. He has been awarded the Young ambassador award by the Asia Pacific Orthopaedic Association in year 2016 for representing India at the biennial APOA Congress in Melbourne, Australia where he visited high volume centers of Orthopaedic excellence in Melbourne and Brisbrane. Increasing lifestyle related problems have also made him find his deeper interest in alleviating his patient's pain and discomfort from these problems.
Qualification and Awards
MBBS,
MS (Ortho, MAMC, Delhi),
DNB (Ortho), MNAMS,
Fellowship in Joint Replacement & Adult Hip Preservation (USA),
Fellowship in Sports Injury (Safdarjung Hospital),
Fellowship in Hip & Knee Arthroplasty (Max Hospital, Saket)
Specialization & Experience
Specialization & Experience
Consultation Days
DLF5 Clinic
Mon – Sat: 12:30 PM – 1:30 PM
& 5 PM – 8 PM